COVID-19's widespread impact on both public health safety and the economy has resulted in new challenges for community associations stemming from social distancing measures.
Many Associations that have amenities which previously did not need reservations (such as gyms, pools, etc.) are now faced with how to handle controlling how many residents can access them at a given time.
A recent survey from CAI revealed that 79% of communities closed common areas and amenities because of COVID-19. The coronavirus pandemic is impacting community associations nationwide as they experience increased frustrations and anger among residents because of amenities being closed, all of which negatively impact the resident experience.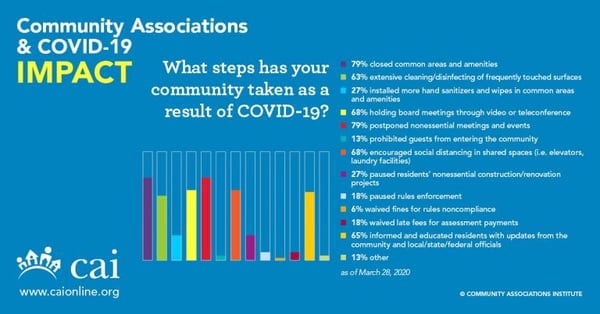 Focus on resident experience
Managing amenities during re-opening is important for maintaining a harmonious long-term relationship between property managers and residents. Thus, software that allows residents to safely book amenities while following social distancing guidelines, is essential for avoiding the spread of COVID-19 while providing a great resident experience.
Concierge Plus is responding to the limitations imposed by COVID-19 on your community by giving you new tools to manage your amenities during re-opening:
You can now configure amenities so that residents may create multiple, simultaneous bookings. This same multiple simultaneous amenity booking functionality can be used to allow residents to register for classes, or any other similar activity.

You can set limits to the number of residents that can book a particular time slot or all-day amenity and therefore encourage social distancing. You decide how many residents can register to be in a given space at a given time.

If you want to close your amenity between resident use for cleaning or another purpose, just set the time blocks to have a gap.
Our new Multiple Simultaneous Amenity Bookings feature also allow residents to see how many spaces are available in each booking slot and make a reservation.
Watch our latest webinar and learn how to manage your amenities during Re-opening: