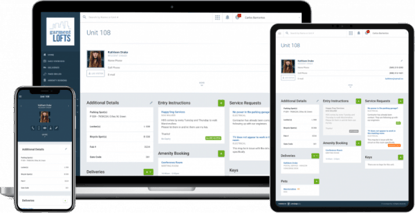 Customers that use Concierge Plus' Resident Experience Management platform can now choose to download and use our native app available for Apple and Android phones and tablets. Every feature accessible through your web browser is available through our app, which is different from other apps in the market, where only a handful of features are present.
Go to the Apple App Store or Google Play Store and search, "Concierge Plus", to download our Resident Experience Management app.
The Concierge Plus Resident Experience Management app allows residents and staff to access all functionality related to their community including:

Package Tracking
Our package tracking module is easy-to-use and will instantly transform your manual process into an efficient, digital system.

Amenity Booking
As the social distancing restrictions are now loosened, pools and gyms begin to open. One challenge faced by many property managers is the ability to limit occupancy. Our amenity booking feature gives residents the ability to book timeslots for facilities that didn't necessarily require reservations in the past.
This includes pools, gyms and other fitness areas, and BBQs.

Resident Announcements
With our Announcements solution, you'll be able to create, edit, and distribute announcements easily and effectively by email, text message (SMS) and automated phone call.

File Sharing through the Media Library
Our Media Library feature allows property managers to securely store and share all of their community documents online with our simple system. Board minutes, forms, by-laws, photos, and even videos can be shared with permission-based access.

Service Requests
Our Service Request feature allows you to respond, monitor, and communicate the status of any job with just a few clicks. We keep you in-the-loop every step of the way with email alerts and online notifications when a request is created, amended, or updated.

Entry Instructions
This important feature allows residents to effectively communicate entry instructions to front desk or security staff, 24 hours a day, 7 days a week from the comfort of their home, office, or mobile device. Whether it's a caretaker, dog walker, friend, or family member, residents can now communicate instructions without clogging up the front desk. Lots of customization features make this work exactly like your building needs.

Classified Ads
With our dedicated Classified Ads feature, residents can quickly post and share items or services for trade, sale, or on offer. We've made uploading photos a snap and created distinct categories, making it easy to sort and search through postings.

Newsletter
Save the environment (and lots of money and valuable time) by distributing your newsletter digitally. Similar to announcement distribution, your newsletter will be emailed out instead of needing to be printed.

Community Calendar
Our Community Calendar enables residents to view upcoming events in calendar format. Condo, HOA, concierge, and administrative staff can easily track property–related events such as scheduled maintenance or upcoming board meetings. And, permission-based controls give property managers the power to choose which community members can see which events.

Discussion Forum
Building a strong and connected residential community is easy our Discussion Forum feature. This easy-to-use feature allows you to invite residents to join discussion forums moderated by you. What's more, you can assign specific topics for contractor recommendations, items for sale, and general community events.

Incident Reporting
Boost efficiency and accountability among your security team by recording incidents digitally, attaching photos and documents, and having a permanent record in a secure database that cannot be altered or deleted. Security staff sign off on a report with a digital signature and Property Managers receive instant email delivery of all new reports.

Pass-On-Logs
Pass-On-Logs allow guards or managers to distribute information to the security team about important happenings on site, or key knowledge that just needs to be handed to the next shift. Our solution lets you see exactly who read what log item, and when, making each guard accountable.

And much more!
Let us show you how our property management platform makes life easier for property managers and security companies by helping them deliver better resident experiences to condo boards and residents.